About a week ago, I got a call from a close friend and surrogate sister inviting me to attend a screening of the groundbreaking documentary, He Named Me Malala, that is being hosted by the Ministry of Education here on the island. My friend, Chantell Martha, whom you may have heard of, had been personally invited by the Minister of Education to take part in a panel discussion on girls' education in Aruba and other countries around the world that is scheduled to take place at the event.
No offence to the Ministry of Education's powers of perception, but what they saw in Chantell is something many people had already taken notice of months before. Back in July, Chantell posted a video on Facebook that has since been viewed over seven thousand times (Note: these are "viral" numbers on this here little baranka* we call home). In the video, Chantell shares her story on the power of self-belief despite adversity, which for Chantell included everything from being marginalized by educators who were convinced she couldn't achieve much academically and being bullied by her peers because of the color of her skin — a reality many dark-skinned women face on a daily basis. Yet, what sets her apart is that rather than allowing these truly vile opinions to dictate the course of her life, Chantell has managed to prove these voices wrong in the most inspirational way.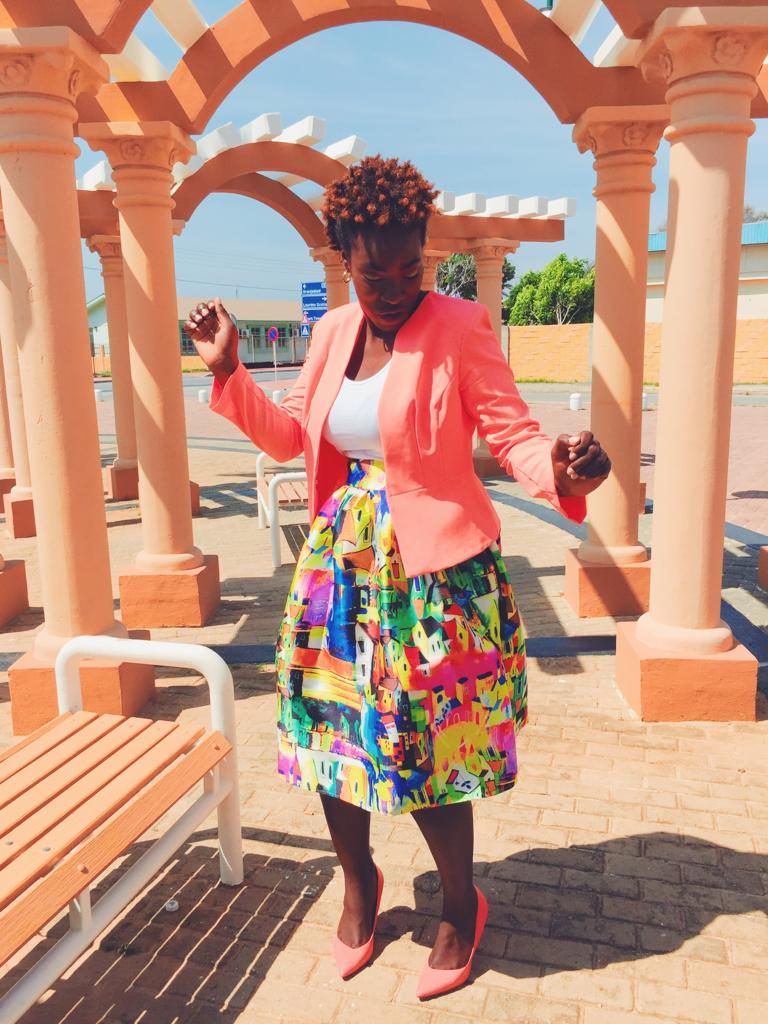 Since graduating early from a primary school for children with special educational needs, Chantell has gone on to overcome every academic challenge she has faced and is now enrolled in her third year at the general secondary school on the island (Avond MAVO), where she is currently in the top percentile of her class. In addition, and perhaps more importantly, Chantell has learned to love herself from the inside out. She was featured in one of last year's Famia Planea (Aruba's Planned Parenthood) promotional videos as part of their "I Love My Body" campaign and has recently snapped about the joys of wearing an actual bathing suit (rather than shorts and a t-shirt) to the beach for the first time in her life!
As Chantell continues to develop into a confident young woman, we thought it would be best to ensure that her style also reflect this change. At the time, her closet mainly consisted of heavy jeans, button-down shirts and dresses that Chantell has unfortunately grown out of. In other words, there was nothing in her closet that said, "I'm about to meet with Aruba's Olivia Pope." Okay, so…no — Ms. Hooyboer-Winklaar is not romantically involved with "the Leader of the Free World," but our Minister of Education does have impeccable taste and always looks amazing! So obviously, my first question after accepting the invitation to be her guest of honor was inevitably, a nearly hysterical and definitely panicked: "What are you going to wear???" To which she replied, basically yelling into her phone: "I don't know!!!"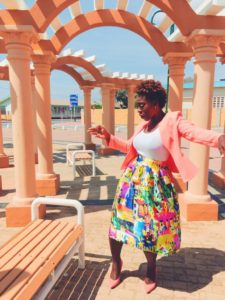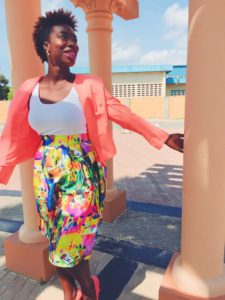 Once we had both settled down, I started to picture Chantell standing on stage, looking  professional and youthful in an outfit that perfectly reflected who she is today. As soon as we started her Personal Shopping experience, I realized that we were in absolute agreement on the question of color, but had conflicting ideas when it came to the pieces of clothing we thought most appropriate for the occasion; I was picking up dresses and skirts and she was looking at tight pants and bodycon jumpsuits. I encouraged her to try on my selections and thankfully, she quickly responded, "OK! I want to get out of my comfort zone, anyway. I should be looking at things that I don't like." Of course, her immediate acceptance of my advice was great, but I also needed her to understand why it was not a good idea for her to attend this incredibly important event in a catsuit. Because can you imagine Julia Roberts, pre-makeover in Pretty Woman, going on that too-good-to-be-true Opera date with Richard in those knee-high boots? No, of course you can't, because that wouldn't make sense. Very much in the same way that meeting Olivia Pope in a catsuit wouldn't make sense!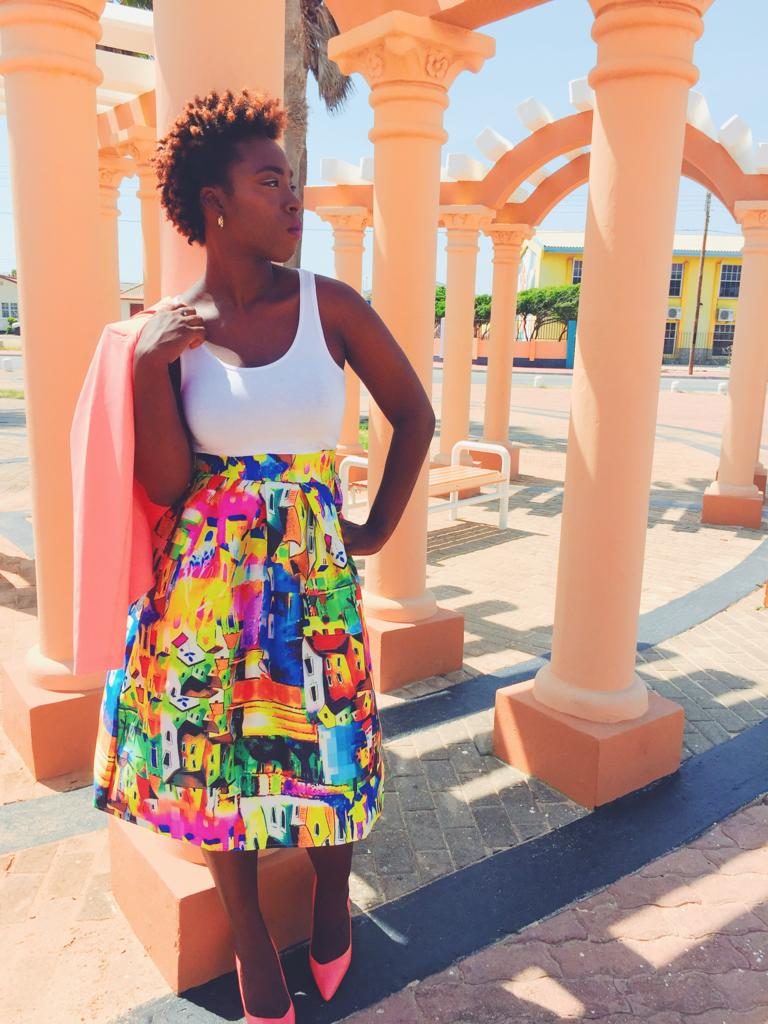 So after that life-changing realisation, Chantell set her mind on a bright pink blazer and I pulled a multicolored full tea-length skirt to complement the look. We rounded things off with a basic white top and coral pumps. She instantly fell in love with the bold print and colors, and it all worked so well to flatter her figure as well as her skin tone. With our shopping experience complete, we sat back and reflected on what we had accomplished and celebrated the fact that we were able to buy a brand new outfit for just Afl.175 ($100)! Then Chantell remarked that despite not being a huge fan of skirts, she really enjoyed trying on the one we chose and would even consider buying one or two others. I smiled my big smile at this development and asked if she could picture herself walking onto a stage; and she said, "It's breathtaking…like I am stepping out into a new me!"
* "boulder" in Papiamento
The Look:
A-line tea length skirt by DShop Outlet
Blazer by DShop Outlet
Basic white tank top by Mango
Coral pumps by Aldo
Makeup by Georgina Doremy