This picture symbolizes the beginning of something larger than what I had imagined for myself and my role as a stylist on the island. This picture marks the beginning of #zhuzhedbyali.
Rosabelle Illes, a dear friend and hugely talented local artist/writer, and I had been working together for a while; her Closet Overhaul was long completed and we agreed that I would style all of her looks for upcoming appearances and performances. When not on stage or in front of the camera, Rosabelle manages to do her own thing (with my voice in her head, of course).
This went on for a while until preparations for New Year's Eve 2015 changed everything! Part of our culture here on the island is to ring in the new year in a completely new ensemble. Some people even have dresses sewn for the occasion. It's a big deal, and everyone does their best to look fresh! A group of friends and I, including Rosabelle, decided to attend the New Year's Eve celebration on the island, the heavily attended and much-loved "Party at The Lee's Bedazzled Babylon." Rosabelle and I had put together an appropriately named "black on black on black" look weeks prior, but we were still waiting for the perfect occasion that might complement this classy yet seductive outfit. So when we heard that the Lees had called on us to be "bedazzled," we knew that this party was what we had been waiting for.
A few weeks before that, I attended a fashion show in San Nicolas presented by Ateliers '89, a contemporary art studio based in Oranjestad. The fashion show was the culmination of a 6-week fashion workshop taught by Dutch fashion designer Mirte Engelhard. Darwin Winklaar, an absurdly gifted local designer, presented his largest collection to date at this show, entitled "Back to Violeta." The collection, which was dedicated to his mother Nidia Violeta Vries, was colorful, creative and deliciously fashion-forward. His high-waisted wide leg pants drove my imagining wild as I pictured all kinds of looks for different people. Needless to say, I fell deeply in love with every single piece. But there was one piece in particular that was truly The One; it was a wearable art piece, or brooch, styled as part of a look that came down the runway. Instantly I knew it was meant to be the finishing touch for Rosabelle's "black on black on black" (and bedazzled!) outfit.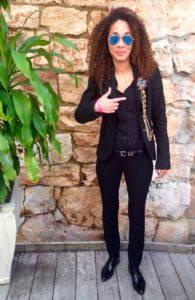 I reached out to the young designer hoping that he would see my vision and allow me to borrow his design for the last night of 2015. His answer to my request — "Of course you can! But only because it's you!"— was exactly what I was hoping to hear. I was so happy and honored to be the Rachel Zoe to his Oscar De La Renta! And Rosabelle was our muse, our star that would grace the proverbial "red carpet" with a look that was perfectly #zhuzhedbyali.
The Look:
Pants and button-down shirt by Banana Republic
Blazer by Benetton
Black patent leather Oxford shoes by Mansfield
Wearable Art piece by Darwin Winklaar
Sunglasses by Urban Outfitters