It's hard to believe Naomi and I have been friends for almost 20 years. It's even harder to realize that I seem to have forgotten some of the most priceless moments of our friendship. With much of the same glee that you might rediscover a forgotten gem in your closet, I listened as she reminded me that she was the very first passenger to ride along in my parents' 1995 Buick LeSabre hours after I got my driver's license. She was also quick to remind me that I jumped a curb and almost hit a street sign. No big deal, okay! – we are fine and lived to tell the story. The point is that we've been friends for a long time. (The part about almost hitting a street sign is not true, but it helps to add dramatic effect, no?)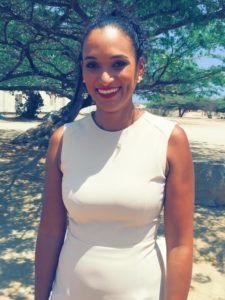 Still, there are some things about Naomi I will never forget. Her Colegio Arubano personal style is forever etched into my mind. At 7:15am, Naomi's curly hair was wet and gelled down at the front – in classic "Savaneta Bombshell" fashion. She had an enviable variety of mini skirts, although she seemed to prefer the one in khaki. And she always – ALWAYS! – wore white Adidas sneakers. Above all, her style expressed that easy going personality you might ascribe to your favorite 'girl next door'.
Since then, Naomi has become a wife, a mother of two and the owner of a small local bridal shop. When we chatted about her desire to get dressed up more often, she was afraid that her typical daily routines were not justification enough, despite her many accomplishments.While this is a very common concern, I explained to Naomi that it was not one that I shared. This is most likely due to the fact that I grew up watching my mother clean our house while wearing her pearl necklace. But I've also come to realize that personal style should celebrate whoever you are at any stage in your life, no matter how (in-)significant the occasion. So when the time came to overhaul her closet, we kept several dresses that she hasn't worn in ages. A trip to the grocery store, a trip to the bank, meeting with a potential customer, playdates, girls' night out (with me!) and date nights with her hubby are all reasons for Naomi to get dolled-up, and the dresses she has are all perfectly appropriate.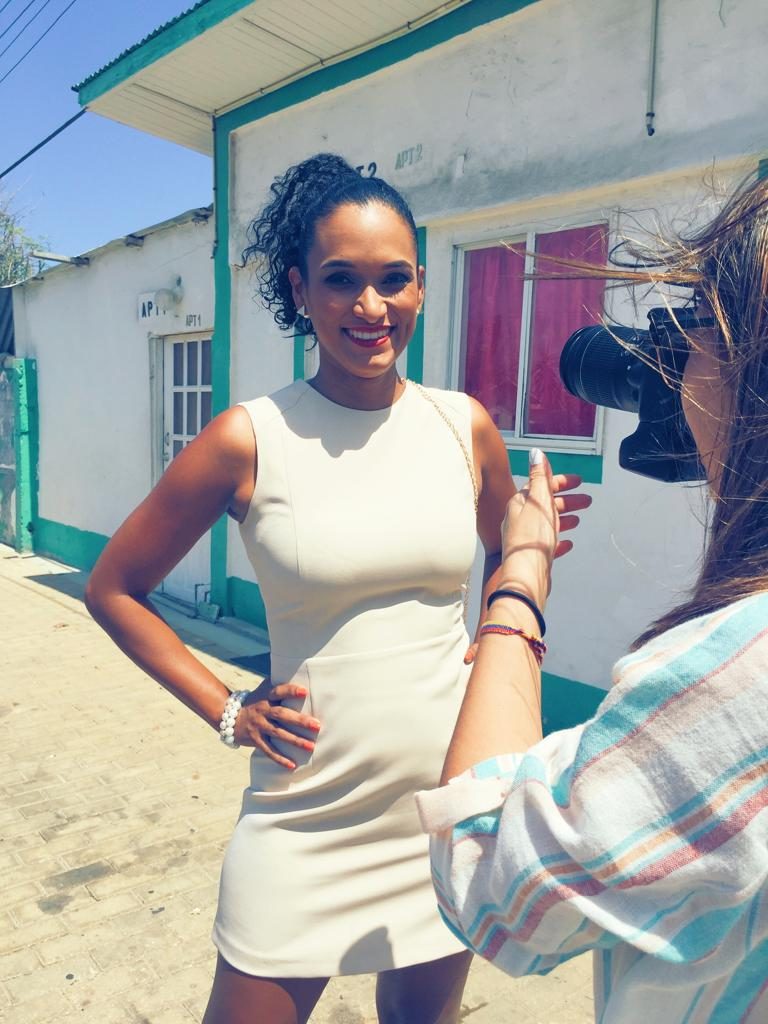 For her 7th wedding anniversary, Naomi asked me to style her outfit. It was a special occasion: Naomi made sure to let me know that she was looking forward to "going on a date with her husband, not her 'baby daddy'." So they made childless dinner plans at the chic and "so-romantic-you'll-melt" Screaming Eagle restaurant, where diners enjoy a "Dinner-in-bed experience". Needless to say, this was going to be a big deal; we made sure she looked the part!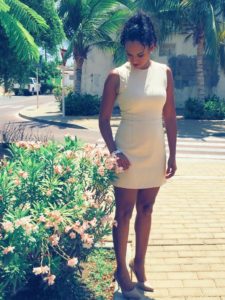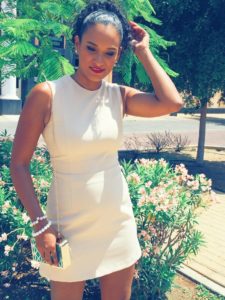 The Look:
For this occasion, we felt the most important thing was that Naomi's look allow her to express the woman she is today, while staying true to her 'girl next door' personality.
Dress: The mini-dress was love at first sight. I think it was the color, she still loves khaki! (Mango)
Shoes: Naomi's got legs for days, so there could not have been a better choice than nude stilettos to give her a sleek look from head to toe. (Ladies Choice, Aruba)
Accessories: We added color and some much-needed bling with a grass green clutch with gold asymmetrical detailing. Pearl earrings and bracelets are more than enough for someone who does not regularly accessorize. (D Shop, Aruba)
Hair: Her curly girl hair is swept up in a loose ponytail that says "young and fresh" to add some balance to the overall look. The best part is: the ponytail will never go out of style and it's quick and easy.
Makeup by Georgina Doremy