About a year and a half ago, I attended a screening of Mighty Lords, Kings and Queens, Calypso and The Politics of Recognition, an intriguing documentary by Shareli Emanuelson and Gregory Richardson on the role of Calypso music in the history of the Caribbean. Young professionals, musicians, artists, and local celebrities had all flocked to Cas di Cultura for the occasion. Among this excitement is where I first met Aissette. Our interaction was brief, but her energetic personality left a definite impression on me. Aissette does it all: she is a Media Manager, a Public Relations Assistant, and an active radio and TV personality (you may recognize her as the host of Brindis, a local television show that follows brides and grooms on the island down the aisle). I can't imagine where Aissette finds time to sleep, because on top of all that, she's also a proud single mommy.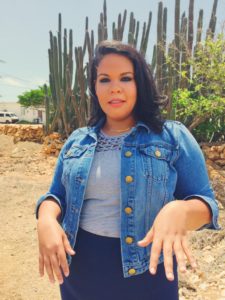 So at our first sit down, Aissette explained that she strives to look "put together" in spite of everything she has going on. But while Aissette definitely knows what she wants, she was also quite sure that she is really not hitting the mark. She confessed that she tends to "look and feel disorganized", not quite sure what pieces work well with her body type, what colors compliment her skin tone, or what exactly makes for a good/bad outfit. In other words: Aissette needed my help! Luckily, I was able to give her the full blown Zhuzh experience – all the way zhuzhed up!
Because this includes a Closet Overhaul, we agreed to meet at her lovely home, located in a residential area in Oranjestad. I had the pleasure of meeting her daughter and her 84-year-old grandmother (who could have fooled me!). We sat down to strawberry cupcake flavored tea (Aissette's favorite), and shared tips on yet another hot-button topic: hair products and how to maintain curly hair! But luckily, grandma brought this fussy conversation to a swift close when she pointed out that in 1945, many people on the island used none other than good ol' blue cake soap to wash their hair, due to shortages during the war.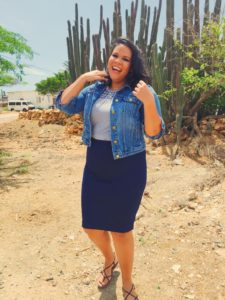 And so the time came to have a look inside Aissette's closet. She was so nervous and feared that I would go all Kanye on her and force her to get rid of everything (remember when he pretty much raided Kim's closet?). Turns out, it wasn't as serious as all that, but there sure was a lot to go through! Nevertheless, I was confident that we would be able to assemble more than a few "put-together" outfits. Of course, this was not until we were passed all the hand-me-downs that she had never liked or worn because they didn't fit, or because they were maternity clothes! There was even one piece of clothing in particular that I couldn't recognize, until Aissette let me know, between fits of laughter, that it was a baby sling.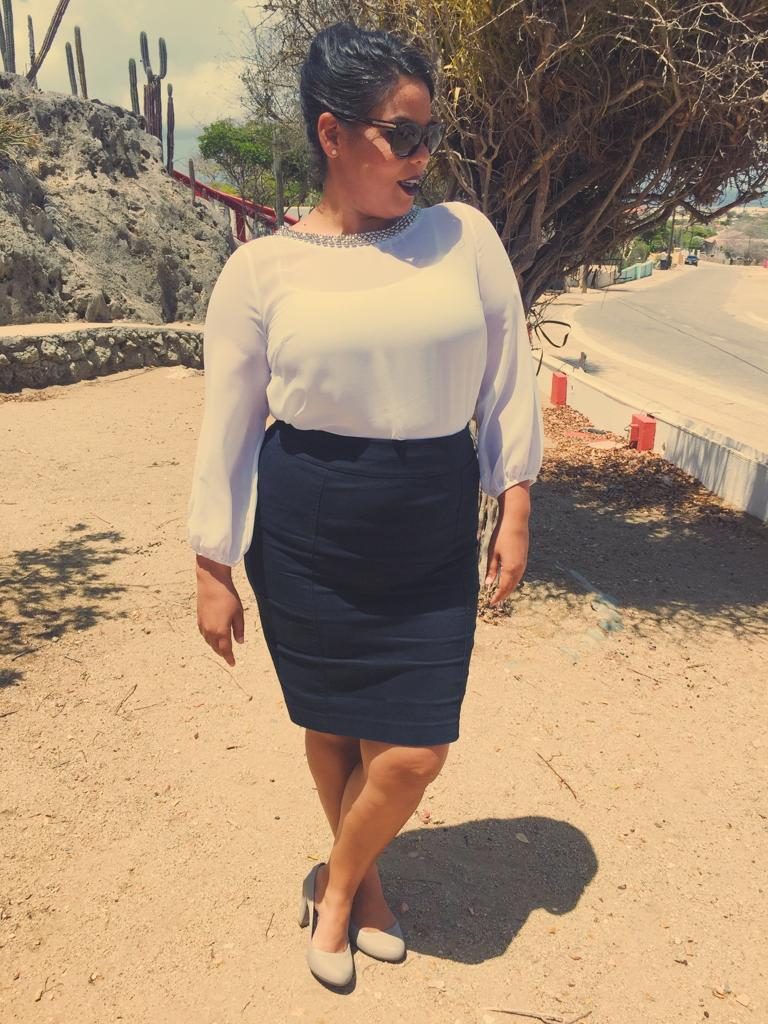 After the umpteenth hand-me-down, I realized that this was something we needed to address.
She says she accepts hand-me-downs because she enjoys having the illusion of having lots of options. Good point, I thought; having lots of options or pieces to choose from can be great. But when the chips are down, too many "options" can also be a massive headache! Narrowing down your options is a major time-saver, making it much easier to create an outfit that looks 'put together' in the morning. The easiest way to do this is to only keep pieces that mix and match well together in your closet.
This is something I learned while shopping with my mother as a teenager. While incredibly strenuous at times, these trips to Caya were almost always an exercise in creativity and imagination. She taught us to only buy a new top or pair of pants if we knew that it could be paired with something we already owned. So Aissette and I created a "keep" and a "toss" pile with this in mind. The "keep" pile was noticeably smaller, but in the end, we were able to come up with 24 looks that made her look and feel confident, professional, and put together.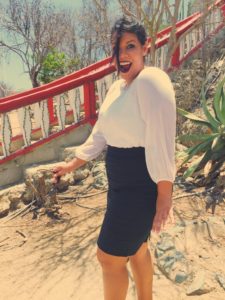 The Look:
Skirts: Her pencil skirts were kept because they show off her curves and accentuate her waist beautifully.
Tops: I am a fan of basic tops. They transition well from day to night and can be repeated without anyone knowing.
Jacket: A jean jacket is a wardrobe must-have. It's super versatile and they never, ever, go out of style.
Hair: Her hair has a lot bounce and it adds to her overall natural beauty.
Makeup by Georgina Doremy